Touch Screen Monitor Rentals
Rent Touch Screen Displays | 24″ to 100″
Aria Technology Display Solutions offers a vast selection of interactive Kiosk and Touch Screen monitors for rent. You'll be sure to find the perfect fit for your needs. From professional-grade business presentations to simple multimedia displays, our 4K monitors provide unbeatable performance and reliability. Get ready to enjoy a crisp, clear image like never before!
Touch Screen Monitor rentals are ideal for conveying your message or content flawlessly during any event. We have the latest infrared touch screens and TVs in many sizes ranging from 24″-100″. And interactive Monitor Rentals are available anywhere in the nation on a daily, weekly, or monthly basis. You can rely on our 24/7 technical support to get hassle-free service.
We offer the best pricing and a wide selection of Gaming Monitors. For displays larger than 100″, please see our Video wall rentals.
Touch Screen Rentals for Events
Touch screen rentals are becoming increasingly popular in the trade show and event industry, as they offer a unique and engaging way for attendees to interact with a display. These rentals are great for a variety of applications, such as product demonstrations, interactive presentations, and lead generation.
One of the main advantages of touch screen rentals at trade shows and events is that they allow attendees to easily navigate and access information about products and services. They also allow companies to collect valuable data on attendees, such as contact information and product preferences.
In addition, touch screen rentals are best for creating interactive and immersive experiences for attendees. An example is virtual reality demonstrations or interactive games and quizzes.
Overall, touch screen rentals are a valuable tool for companies looking to stand out at trade shows and events and provide a memorable and engaging experience for attendees.
Vast Selection of Touch Screen Monitors for Rent
We take pride in offering an extensive inventory of touch screen monitors and Kiosks in various sizes. From small to extra-large, we have the perfect size to suit your specific requirements. Our touch screen monitors boast cutting-edge technology, providing you with an interactive and immersive experience. Equipped with high-resolution displays, responsive touch functionalities, and crystal-clear sound, our monitors elevate the audio-visual experience of your events.
Infrared Samsung EOL
Infrared: Samsung: 32″ HD Display
---
Infrared: Samsung: 43″ HD Display: PM43F
---
Infrared: Samsung: 49″ 4K UHD Display: QM49F
Infrared: Samsung: 55″ HD Display
---
Infrared: Samsung: 55″ HD Display: PM55F
---
Infrared: Samsung: 55″ Outdoor Display: OH55D
---
Infrared: Samsung: 65″ 4K UHD Display: QM65F
---
Infrared: Samsung: 65″ HD Display
---
Infrared: Samsung: 75″ HD Display
---
Infrared: Samsung: 82″ HD Display
How to Rent a Touch Screen Monitor
Renting a touch screen monitor from our company is easy! Simply browse our inventory to select the desired size and quantity of touch screens. Fill out our online quote form with your event details, and our team will promptly get in touch with you to finalize the rental process.
Contact Us Today!
For an unmatched audio-visual experience at your next event, trust our touch screen monitor rental services. With our nationwide coverage, extensive selection, and dedication to customer service, we are your reliable partner in making your events interactive and engaging. Get in touch with us today to discuss your rental needs and take your event to the next level!
Providing HD resolution from desktop monitors to large format displays.
4K Ultra HD provides 4x the resolution with crisp and clear imagery.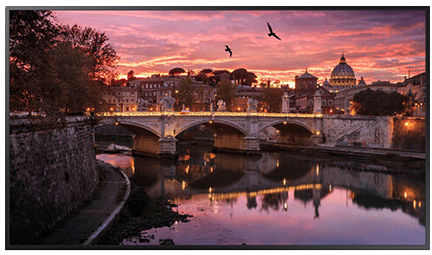 Interactive touch displays that create engagement and can have multiple touch points.
Larger display canvas to showcase multiple images at once or a single piece of content.
Touch Display Rental Cost
The cost to rent touch screen monitors can vary depending on factors such as the rental duration, screen size, and specific brand/model. However, to give you a general idea, the rental cost for touch screen monitors typically ranges from $99 for a 24″ display to $599 for 65″ Touch monitor per day.

When it comes to the best touch screens to rent, here are a few examples:

Samsung QMB50T touch screen monitor offers a full HD resolution and provides excellent touchscreen responsiveness. It is known for its excellent color accuracy and wide viewing angles.

NEC Touch Screen Rental With a 65″inch full HD touch screen monitor offers high-quality visuals and smooth touch response. It also features an adjustable stand for maximum comfort.

Philips 242B9T: This 24-inch touch screen monitor offers a full HD IPS display, providing vivid visuals and wide viewing angles. It incorporates a durable and anti-glare touchscreen with smooth touch response.
With a nationwide presence, we can deliver our touch screen monitors directly to your event venue, no matter where you are located. Our reliable logistics ensure seamless delivery and pickup, saving you time and effort. We understand that each event has its unique needs. That's why we offer customized rental packages tailored to suit your requirements. Whether you need a single touch screen or a large quantity for multiple locations, we can create a rental package that fits your budget and preferences. Check out our touch screen rentals in your city.
Touch Screen Rentals in Action
Here are real life examples of Large TV Monitor rentals including curve displays and very large LED Wall for Events.
Display Related Technology Rentals
Our Touch Monitor and Computer rentals company provide a complete technology package including LED wall rentals for trade shows and meetings.
FAQ About Touch Monitor Rentals
What size Touch Monitors can I rent?
Companies can rent 24" to 100″ commercial grade Touch monitors and televisions for events.
Can I get a floor stand for my Touch Display?
Yes, many larger monitors are rented with a 72" or 84" high floor stands. These are available nationwide.
What resolutions are Touch Screens available in?
The most typical resolutions requested are HD, 1920 x 1080 an 4K, 3840 x 2160. Aria carries both options.
Does Aria deliver, setup and strike displays?
We do deliver, setup and strike displays nationwide. Many customers also add on on-site tech support.
What accessories come with Touch Monitor rental?
Most displays come with a power cord, HDMI video cable and remote control. Larger monitors come with wall mounts.
What brands of display do you carry?
Samsung, NEC, Dell and Asus are popular manufactures we carry.