Rent TV Monitors in Las Vegas
Las Vegas TV Rentals specializes in large screen Television rentals for trade shows, meetings, and events. Choose from a vast selection of LED and OLED Screen TVs in sizes ranging from 32 to 100 inches. You'll be sure to find the perfect fit for your needs. From professional-grade business presentations to simple multimedia displays, our 4K Televisions provide unbeatable performance and reliability. Get ready to enjoy a crisp, clear image like never before!
TV Rentals are available anywhere in the nation on a daily, weekly, or monthly basis. You can rely on our 24/7 technical support to get hassle-free service.
We offer the best pricing and a wide selection of Curved Television rental and 4K Monitors. For displays larger than 100″, please see our Video wall rentals.
4K TV Rentals Las Vegas Events
Las Vegas 4K TV rentals are a popular choice for events, trade shows, and meetings, as they provide high-quality displays that are ideal for training, sales demonstrations, and the gaming industry.
One of the key advantages of 4K TV rentals is their high resolution. 4K displays have four times the resolution of standard HD displays, which means that they can display much more detail and provide a more immersive experience for viewers. This makes them an excellent choice for training and sales demonstrations, where it is important to provide a high-quality visual experience.
Another advantage of 4K TV rentals is their size. Large 4K displays can provide an excellent backdrop for events and trade shows, and they can be used to create eye-catching displays and interactive experiences for attendees. This makes them an excellent choice for marketing events, where it is important to create a memorable experience for potential customers.
For the gaming industry, 4k TVs can create large-scale multiplayer gaming experiences, which are becoming increasingly popular in the gaming industry.
Las Vegas OLED Television for Rent
Las Vegas OLED TV rentals are an excellent choice for broadcasting, art, interior decoration, and critical surgery applications. OLED's high-quality display and accurate color reproduction make them an ideal choice for any application where it is important to display high-quality video content.
OLED displays use organic compounds to emit light, which results in a more accurate color reproduction and a wider viewing angle than traditional LCD displays. This makes them an excellent choice for medical use. The high-quality displays provided by OLED TVs can be used to provide surgeons with a life-like image of the surgical site, which is essential for ensuring that the surgery is performed correctly.
Overall, OLED TV rentals are an excellent choice for broadcasting, meetings, art, interior decoration, and critical surgery. Their high-quality displays and accurate color reproduction make them an ideal choice for any application where it is important to display high-quality video content.
Las VegasTouch Screen TV Rentals
Las Vegas Touch screen TV rentals provide a versatile and engaging way to interact with customers, employees, and other stakeholders in the business world. They have a wide range of applications, from product demonstrations to wayfinding and interactive maps, making them an excellent choice for any business looking to create a more immersive and engaging experience for its customers and employees.
We offer the best pricing for touch screen rentals. Get a quote Now.
Best TV Rental
The best Television for rent anywhere in the nation depend on the specific needs of your event or project. Some factors to consider when choosing a TV to rent include size, resolution, connectivity options, and compatibility with your other equipment. Some popular TV rental options include:
4K or Ultra HD Television, which offer high resolution and clear images
LED or OLED TV rentals are energy efficient and have a long lifespan
Renting Touch screen TV monitors allow for interactive and engaging presentations
Large format screen TV are ideal for digital signage or trade shows.
The cost of renting a TV varies depending on the type of Television, and the duration of the rental. On average, a TV rental can cost anywhere from $100 to $499 per day. It's always best to get an online quote.
Call us today or get a quote now.
Huge Selection of TVs, Monitors and Displays
Aria AV offers the widest selection of Televisions, Monitors and Displays for rent. Our experts are ready to help you select the best solution for your project. Give us a call now at 866-840-1472.
Providing HD resolution from desktop monitors to large format displays.
4K Ultra HD provides 4x the resolution with crisp and clear imagery.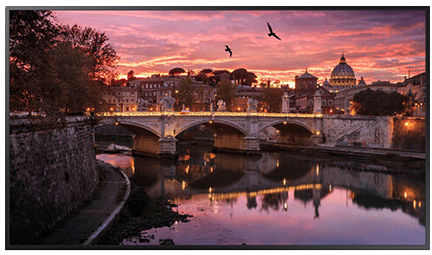 Interactive touch displays that create engagement and can have multiple touch points.
Larger display canvas to showcase multiple images at once or a single piece of content.
Cost to Rent a TV in Las Vegas, NV
The cost to rent a TV can vary depending on several factors, including the type of Television, the size of the screen and the duration of the rental. For example, a standard 32-inch TV rental may cost around $40 per day, while a larger 98-inch TV rental may cost around $950 per day.
Additionally, if you are renting multiple Televisions the cost may be reduced. If you need the TV for a long-term rental, the cost can be negotiated.
It's also important to note that some rental companies may charge additional fees for delivery, setup, and breakdown of the equipment. It is recommended to shop around for the best deal and to be sure to ask about any additional fees when inquiring about rental costs.
Therefore, it would be best to contact us online to get a more accurate estimate of the cost of renting a Television.
Trusted TV Rental Company
Las Vegas TV Rental company has built a great reputation for providing quality TV displays and excellent customer service.  We offer a wide range of touch screen models and specifications to choose from. Our vast selection makes it easier to find the perfect digital display for your needs. Furthermore, our competitive pricing and clear terms and conditions have no hidden charges.

Our trained staff make it easy to rent Monitors and TVs, whether through an online booking system or in-person pickup.

We take pride in customer support to help with any questions or issues that may arise during the rental period.

And we offer 100% guaranteed lowest rates anywhere in the nation.
Related Technology Rentals
Aria AV and Computer rentals company provide a complete display technology package including curved TV rentals for trade shows and meetings.
FAQ About TV Rentals for Events
Q: What sizes of TVs are available for rent?
A: We offer a range of TV sizes, from small 32-inch TVs to large 85-inch and 98-inch displays and we also offer custom video wall configurations.
Q: What is the rental period for TVs?
A: Rental periods can vary depending on the specific needs of the event or project. Most companies rent TVs daily, weekly, and monthly.
Q: Can rental companies provide delivery and setup?
A: Yes, we offer delivery, setup, and installation services for an additional fee.
Q: What type of events can benefit from TV rentals,
A: TV rentals can be useful for a wide range of events, including trade shows, conferences, corporate meetings, product launches, sports events, and live performances.
Q: Can Television rental companies provide technical support during the event?
A: Yes, Aria Technology provides technical support and troubleshooting services during the event.
Q: Can TV rental companies provide custom branding or content for the TVs?
A: Yes, Aria TV offers custom branding and content services for the TVs, including custom graphics, logos, and videos.
Citywide TV Rentals 
Customers can rent Monitors and TVs anywhere in the city with confidence, knowing that we are a reliable company with decades of experience in providing innovative technology rentals at the most competitive prices. We offer state-of-the-art LED video wall, 4K Monitors, Televisions, sound systems and promise to deliver the best experience for our most demanding clients. Compare our TV rental cost in your city and get the most competitive price quote now.
We offer delivery and set up in all major cities including:
Anaheim, Arlington, Atlanta, Austin, Baltimore, Boston, Charlotte, Chicago, Columbus, Dallas, Denver, Fort Worth, Grapevine, Houston, Indianapolis, Irving, Kansas City, Jacksonville, Kissimmee, Las Vegas, Louisville, Los Angeles, Miami, Milwaukee, Minneapolis, Nashville, New Orleans, New York City, Orlando, Philadelphia, Pittsburgh, Phoenix, Portland, Rosemont, Sacramento, Salt Lake City, San Antonio, San Diego, San Francisco, San Jose, Scottsdale, Seattle, St. Louis, Tampa, Tucson, and Washington DC.