Display your message or content flawlessly during any event with our display solutions. Aria AV carries the latest models in displays ranging from 27″-100″. 
Providing HD resolution from desktop monitors to large format displays.
4K Ultra HD provides 4x the resolution with crisp and clear imagery.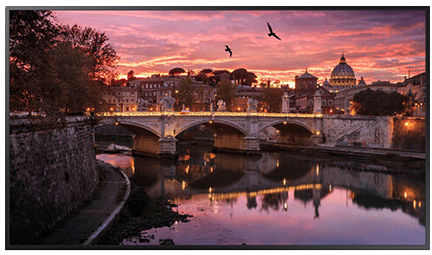 Interactive touch displays that create engagement and can have multiple touch points.
Larger display canvas to showcase multiple images at once or a single piece of content.
What size displays can I rent?
Companies can rent anywhere from 24" to 98" inch commercial grade monitors and televisions for events.
Can I get a floor stand with my display solution?
Yes, many larger monitors are rented with a 72" or 84" floor stand. These are available nationwide.
What resolutions are display solutions generally available in?
The most typical resolutions requested are HD, 1920 x 1080 an 4K, 3840 x 2160. Aria carries both options.
Does Aria deliver, setup and strike displays?
We do deliver, setup and strike display solutions nationwide. Many customers also add on on-site tech support.
What accessories come with display solutions?
Most displays come with a power cord, HDMI video cable and remote control. Larger monitors come with wall mounts.
What brands of display solutions do you carry?
Samsung, NEC, Dell and Asus are popular manufactures we carry.